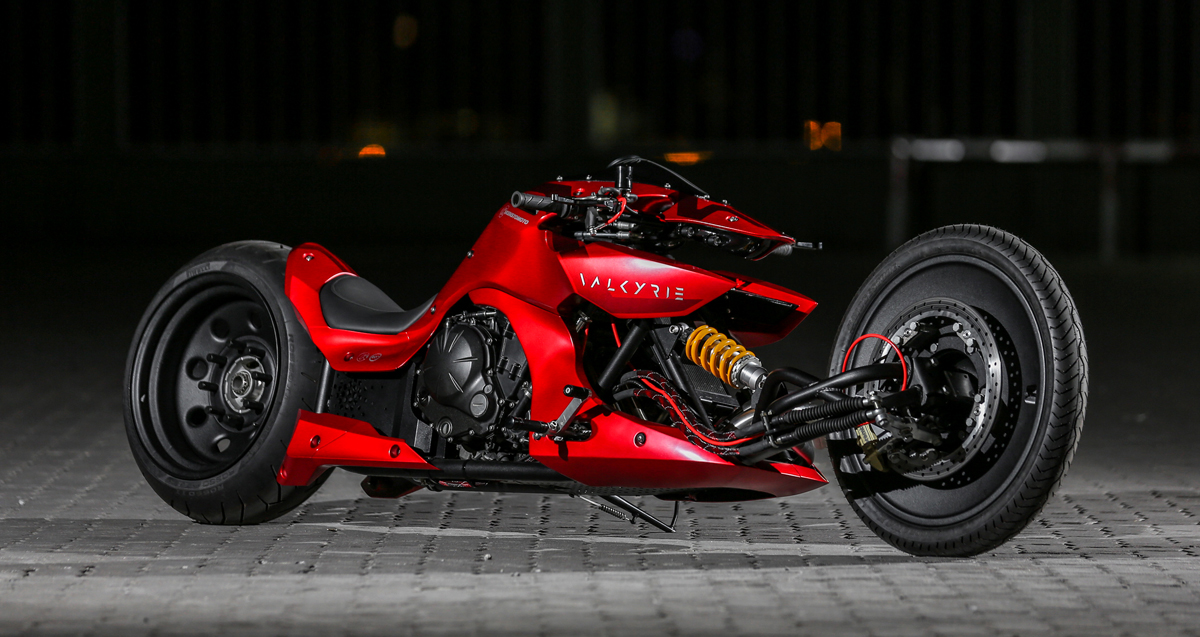 Valkyrie Display by Kenstomoto
Welcome to the future, or at least a very unconventional two-wheeled view of it, courtesy of Kenny Yeoh. This bike captured my attention the moment I walked into Art Of Speed on the first day of the Malaysian event. Sitting low and stretched over the ground, the custom creation looked like something out of the Akira anime. This is not the first time I've posted images of Kenstomoto bikes; Kenny's builds stood out to me at the last couple of AOS events. They're always highlighted by a recognizable style, a mix of aggression and forward-thinking design. But this year he's taken things to a whole new level. The Valkyrie was designed then built in house Kenstomoto, beginning with a detailed and thoroughly engineered 3D CAD model. The second step of the process was to turn the design into reality, and for this Kenny hand fabricated the frame.
This is his first venture into a full-frame build, and as he told me, once you start drastically lowering the overall shape of a bike the packaging starts to become quite a challenge, the biggest headache of all being the front end and the steering. The stretched-out front end uses a single-sided swing arm with a cable-actuated steering system. Thick cabling is used to push and pull the massive front wheel left and right over its pivot point. A single coilover then takes care of the damping. The 21-inch front wheel was purchased as a blank and machined in a way that it would support both the custom hub and the mounting for the brake rotor on one side, leaving the other side completely clean. The candy red body parts and cowls were 3D printed, again highlighting the precision and planning that Kenny puts into all his creations. On top of what you would commonly call the 'tank' sits a Daytona tachometer sourced from Japan. That's not the tank, though. Because of the bike being lowered and stretched over its extended wheelbase, the fuel tank had to be relocated, and the custom 6L unit sits under the seat protected by the steel plating of the frame itself. You can get a good idea of the amount of work the packaging took from this angle.
The un-suspended hardtail sits almost recessed in front of the massive rear wheel. It kind of resembles a conventional, modern day custom show bike from this angle. At the heart of the Valkyrie is a Kawasaki Ninja 650R engine, 650cc sitting right on the frame which itself is only 50mm off the ground. The 'foot-warmer' exhaust pops out from the front of the frame and curves over and downward on the left side of the bike, also serving as a distinctive design touch. The 10-month build was rushed to get it finished in time for the AOS show unveil, so Kenny's plan now is to go back, take the bike apart, and rebuild it in an even more focused way. He'll starting with a refined new frame, then add a hydraulic steering setup and countless other details in order to make Valkyrie more of a 'bike' than a 'show bike.'